The demand for poly in the Agricultural industry has been steadily rising over the years. In much the same way, liquid fertiliser demand is on the rise as well, and we've responded to the demand to support the Agricultural industry with our poly liquid fertiliser storage tanks.

As the highest-rated poly water tanks manufacturer, by customer reviews, in Western Australia and backed by a group of devoted experts of over 150 years of combined experience, Coerco extends its attention to detail in developing innovative poly products to its liquid fertiliser storage tanks.
One supplier of raw material used for over 20 years
For over 20 years, Coerco has sourced its raw materials from the same supplier.
We then process our virgin polymer material in our own facility, enabling us to have 100% quality control from start to finish with the goal in mind to surpass your expectations. From a 5-year warranty, we have now increased the warranty on our liquid fertiliser storage tanks to 15 years. It's a non-pro-rata 15-year repair or replace warranty on all our liquid fertiliser storage tanks to grant you peace of mind.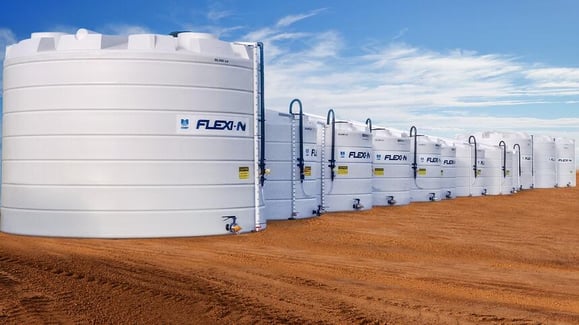 Coerco's tight control on Quality
Our devotion towards quality has led us to become a leader in the field of polyethylene products and our high expectations on manufacturing have gained us accreditation. That is, we hold certification to global management standard ISO9001:2015.
This shows in our glowing customer reviews; because the dedication we have towards the industry does not stop with the finished product but extends beyond delivery.
Additionally, Coerco's impact-resistant and durable, UV stabilised poly liquid fertiliser storage tanks are approved for storage by all major liquid fertiliser companies and offer strengths not found in other liquid fertiliser tanks. Like our poly water tanks, we are confident in the durability of our liquid fertiliser storage and are prepared to stand behind them.
Other alternatives may exist in the market, but none would have the same attention-to-detail to quality solutions as to service, a trait that has been passed on through the years in this third-generation owned and family operated company.
Coerco's Liquid Fertiliser Storage Tanks - Dimensions and Specifications

Advantages of poly liquid fertiliser storage tanks over fibreglass:

Thicker than fibreglass. Fibreglass storage tanks, although offering their own benefits, are very brittle, and therefore prone to cracks.
Lightweight and easy to relocate. In contrast, fibreglass may crack during transfer due to its comparative thinness. Cracks and leakages aren't something you'd want in a liquid fertiliser storage.
Easier to install on your property.
Fibreglass contain polyester resin and other toxic substances that are released once it degrades in the landfill.
When damaged, the UV-resistant gelcoat of a fibreglass tank reduces its life.
Product Registration
Completing the registration on your Coerco poly liquid fertiliser storage tank as soon as you receive it ensures that it's listed in our warranty record database. It also allows us to send you valuable information regarding maintenance of your storage tank.
Click here to fill out the Product Warranty Registration form. You can email us at warranty@coerco.com.au for any questions.