Delivery, Freight & Trading Information
---
Delivery Information
When you purchase a tank from Coerco, it is very important that you provide as much information about delivery as possible.
Ideally, the Google Maps latitude and longitude coordinates are the best and most accurate way for you to tell us where you
want your tank delivered.
Other options
Another option is a clearly defined instruction on a recent map or, as last preference, an address with well-outlined written
drop-off instructions. A site contact phone number should also be provided.
Clearance
Please note that our truck and trailer combinations require a minimum clearance of 20 metres long, 3.5 metres wide and 5 metres high.
Please be aware that it is the owner's responsibility to provide clear access to the site. Clear access on roads, lane
ways, through gateways, crossings and trees as this is essential to ensure the safe delivery of your tank/s or other
product/s without damage.
Large tanks can be delivered direct to property where there is a properly made road and large turning area available. If
a driver cannot reach the location, the tank/s will be left at the closest practical position.
General guide for placement of tanks on tank pads
Placement of tanks above 9,500ltr on pad requires customer assistance. The following is a general guide to follow (please note that this is a GUIDE ONLY; safe work practices and lifting techniques are to be followed at all times and are the responsibility of the client to observe):
Tanks between 9,500ltr and 13,500ltr need three persons (not including our driver) to handle and manoeuvre into place.
Tanks between 22,500ltr and 32,000ltr need four persons (not including our driver) to handle and manoeuvre into place
Tanks above 50,000ltr are too heavy to safely manoeuvre by hand and require either a machine (telehandler, forklift or bobcat)
to assist. Alternatively, our logistics team will arrange for the delivery and placement to be conducted with a Hiab equipped
truck. This will be discussed and determined during the delivery scheduling call with the customer. Please be reminded that it
is the customer's responsibility to ensure there is adequate assistance and/or resources available to safely unload your tank.
If you have any questions regarding your delivery, please give us a call on 1800 646 277 and speak with one of our friendly
team member to discuss!
---
Freight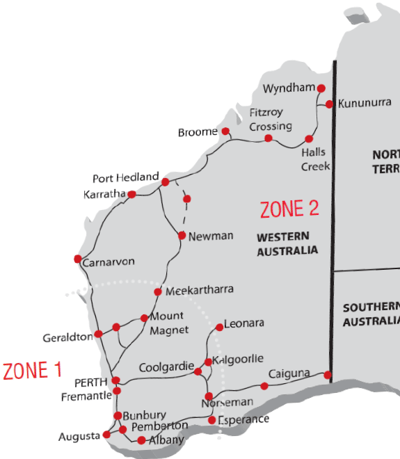 Zone 1:
Any product or product combination 9,000L or greater includes free delivery to site. All other deliveries are Free Into Store to your local distributor.
*Within 800kms of Perth, WA.
Zone 2:
For locations outside of Zone 1, please contact us for a highly competitive quote
for delivery as per your requirements. We have the largest distribution network
throughout Western Australia and our own fleet of delivery vehicles with the
capability to deliver throughout Australia and further afield. We deliver when it
suits our customers, not according to anyone else's schedule.
---
Trading Details
Product Benefits - Coerco products are manufactured from the highest food grade material conforming to Australian standards.
These products are strong, lightweight,
UV resistant and exceptionally durable.
Product Specifications - All specifications are subject to change in line with on-going improvements.
Pricing includes GST - All prices specified include GST and are subject to change without notice.
Product Design Protection - Many of Coerco products are subject of an Australian Patent and pending design registration.
Sizes - All sizes, measurements and capacities throughout this brochure are only approximate due to the variable shrinkage nature of polyethylene during manufacture.
Placing your Order - We have a diverse network of distributors throughout Western Australia. Contact your local Coerco agent or call us on 1800 646 277
Product Returns
All products returned for credit must be in "As New" condition and are subject to a 15% restocking fee and a return freight cost.
Warranty
All our products are guaranteed against faulty workmanship & carry a warranty. Please see more details on OUR PROMISE Warranty Guarantee cover here
Minimum Orders
Any order under $55 including GST is subject to a postage and handling fee of $16.50 including GST.
Disclaimer
All recommendations within this sales catalogue are intended as suggestions only. Coerco does not take any responsibility for the suitability of any product for the use it is given. Product images are a close guide only and may not represent actual product.