Barkly Royal set Meckering abuzz on the 28th of September 2018 with a meet and greet session between Meckering local farmers and some of Barkly Royal's key supply partners.
Under its new management, Barkly Royal, a rural store in Meckering, had done some major improvements and wasted no time time showcasing these new changes to their suppliers and most importantly, their client base.
Coerco, ever eager to connect with farmers, represented. On the Coerco stand was an array of Coerco's quality products from water tanks, to troughs, to firefighting equipment. Also showcased by other suppliers were seeding equipment, hose and fittings and more.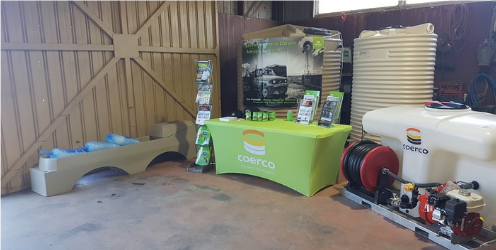 It was a great day to catch up on issues relevant to the local and wider community, especially issues that affect yields on farms. We at Coerco appreciate the efforts all of our farmers make into keeping up to date on new trends, providing us with valuable input, and sharing what they have learned.
In fact, the farmers at the Barkly Royal event had just been to a fire prevention awareness meeting and were happy to share some key points from the event with us. From them we learned that all firefighting connections are going to be increased to 2 inches or 50 mm, from what was originally 40 mm connections.
Some farmers had been slightly affected by frost, but most of them are still very much pleased with how the year has gone and are overall satisfied with their projected returns. However, they say a little bit of rain wouldn't hurt.
It's going to be a great adventure from here on forward, for all of Barkly Royal, Meckering and farmers! Meckering farmers now have added reason to shop locally, which helps to enhance the local economy and the town's future.
We at Coerco will keep aligning ourselves to those who support our farmers because we support them, too. We do this by producing great quality products that enhance the lives of those around us!