Modern-day farm operations are heavily reliant on machinery, which calls for the need for different options in accessing fuel while saving on fuel costs. Because without fuel, operations sadly ground to a halt. So, what's one of the most straightforward ways to deal with this? How can you stay on top of operations without sacrificing gain? The following story will answer these questions.
We caught up with Joel Draffin from ACAH Group, a cropping and hay contracting business based in Northam, WA.
As a hardworking contractor often travelling towards different locations, there was a need for him to have constant access to fuel in times when he needs to deliver products to areas with few or zero fuel stations on the way.
The distances he had to travel on top of tight delivery schedules meant he couldn't afford to run low on fuel in the middle of operations. On top of that, the difference in fuel prices across different areas presented another layer to the problem. As with any business, time and money saving measures must be incorporated in all areas.
"The goal is always to cut down operating costs which can be effected by fuel prices obviously as well as downtime of machines which in effect pushes up labour costs."
The Solution: Diesel Transport Tank
In order for Joel to be more efficient with his time, meet his customers' needs and save money, he had to have a diesel transport tank ready to refuel his truck when needed.
He previously already purchased Coerco's 2,000-litre trailed diesel tank for his baling operations. This time, he picked Coerco's 600-litre self-contained diesel transport tank for his road train which made his job delivering his products a lot easier.
ACAH Group's 2,000 litre diesel tank from Coerco.
The Results
It's been a chain-reaction of productivity after productivity for Joel. Now he has the freedom to go wherever he needs to be without running low on fuel.
Coerco's 600-litre self-contained diesel transport tank has allowed him to:
Save time spent having to refuel (in fact, he can refuel on location!).

Choose where he wants to buy fuel, preferably in Northam where fuel price is cheaper. Plus, it's where he goes home to his family most days and where ACAH Group is based in.

Save money as a result.
As an example, if he has an ongoing operation in Dalwallinu where the price of fuel is higher ($1.559 per litre) than in Northam ($1.449 per litre), having his 600-litre tank already loaded with fuel from Northam where price is much cheaper means that he's able to save $.11 per litre which amounts to a total savings of $66. A significant amount taking into consideration how much fuel is needed in a business like his.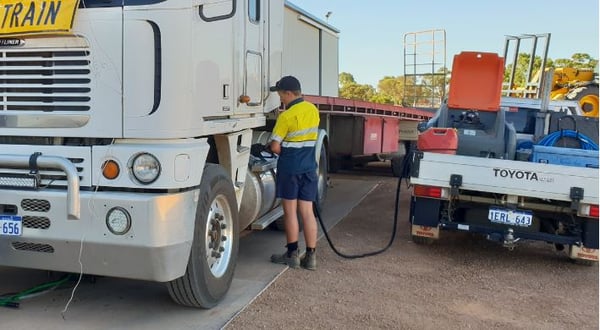 ACAH Group's road train refilled with fuel from Coerco's self-contained diesel transport tank.
Plus, he's able to save up to $96 when buying diesel in bulk. Indeed, massive gains have been met when he started using his 600-litre diesel tank from Coerco.
Additionally, he also finds Coerco's range of diesel storage and transport tanks easy to use.
"Load on ute and tie it on, fuel it up and connect to the battery and they've been saving money ever since."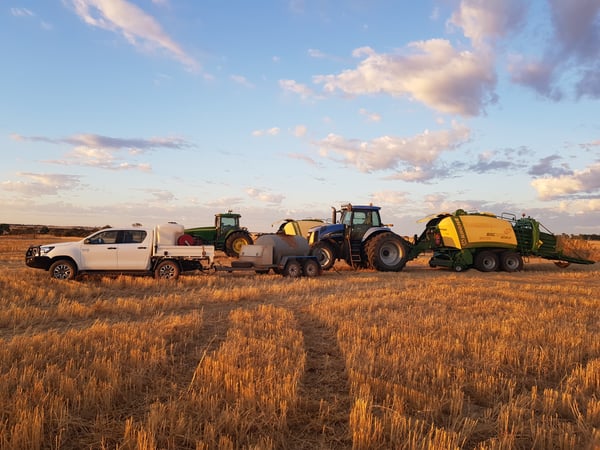 Coerco's firefighting unit (on back of ute) and trailed diesel tank with ACAH Group's machinery.
Compared to the 44-gallon steel cartage drums that he was using before, which he mentioned were too heavy and develops rust overtime, Coerco's poly diesel cartage tanks can do almost anything while being lightweight and robust. Undeniably, the right equipment and solutions for diesel transport can act as a catalyst towards better fuel efficiency on your field operations.
Joel has taken matters into his own hands and is now reaping the rewards of his choice in diesel tanks from Coerco.
You can, too.