Have you ever wondered what our sales team are doing when they're not in the office? Well this is the place for you! Each month, we will be posting the highlights of Coerco external events.
The CRT (RuralCo) National Conference took place on the 9th & 10th of February 2018 and for the first time, Coerco was in attendance. Our sales consultants Adam and Bradyn represented the Company at the Perth Convention Centre. They had a busy couple of days educating national CRT members as to the features and advantages of the Coerco agricultural product range as well as learning how we as a Company can do more to support these members.
It was confirmed for us that nation-wide the agricultural industry has had a reasonably dry and slow start to the year. We learnt a lot about the timing of seasons and how they varied from state to state which will allow us to adapt our business practices accordingly. Adam and Bradyn were interested to see the new and different products on offer in the industry. They look forward to attending further CRT workshops and events in the future.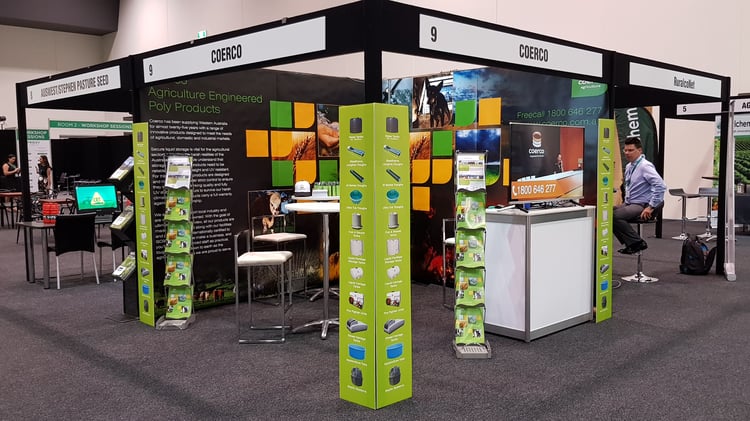 Late January, Coerco again teamed with Davey Water Products, held a 'free tradie breakfast' at Reece Plumbing Kelmscott. These breakfasts are aimed at creating awareness around some of our products which are relatively new to the market as well as educating both plumbers and retail customers as to the benefits of these products. On this fine and sunny morning, with the barbie cranking- our salesman Steve single-handedly (YES - one person!) lifted our 2,200 litre septic tank out of the back of the ute and onto to the catwalk to strut it's stuff!
Our guests were extremely pro-poly septic tanks due to their durability, light weight and ease of installation. One attendee mentioned "he'd be happy if he never had to install another concrete septic tank again!"
In addition to our septics, we showcased our 620 litre pressure booster tank which was jointly designed with Davey Water Products. There were a couple of plumbers that were already looking for a solution to solve water pressure issues for their customers who were experiencing the frustrating problem of low water pressure. In one of the cases, water had to travel 20 metres to get to the house and by the time it got there the pressure was extremely poor.
In general, plumbers were impressed about the size of the tank- noting that it wouldn't take up much more room than a hot water system. Additionally, the fact that the tank was supplied in a complete kit offer with the Davey RainBank® Pressure Pump provided for easy installation.