For a long time, the use of metal diesel tanks has been the only option for on-farm diesel storage. However, a more innovative option is available: the use of plastic polyethylene tanks for the minor storage of combustible liquids is now permitted.

Read on to find out about features and advantages of Coerco poly diesel storage tanks and some safety guidelines for the protection of your fuel and the environment.


Barometer for diesel storage safety: AS1940:2017
The guidelines and recommendations for safety on the storage and handling of combustible liquids such as diesel fuel is stipulated in Australian Standard for the Storage and Handling of Flammable and Combustible Liquids (AS1940) which was updated in 2017 after 13 years.

In manufacturing, following the guidelines of AS1940 is optional and is not a legal requirement. So when a company manufactures diesel storage in guidance to this standard, it speaks volumes.
Coerco Diesel Storage Tanks


Coerco polyethylene diesel storage tanks are rotationally moulded in one-piece seamless construction and manufactured in guidance with AS/NZS 4766 and AS/NZS1940-2017. Right off the bat, our diesel storage tanks have beneficial features which include:


Anti-splash and anti-splash fill lines
Built from flame retardant material
Venting to avoid harm to the tank with normal operation of use
Highest quality diesel grade material
Quality Italian pumps (12, 24, 240 Volt options)
UV resistant for Australian conditions
Rust-resistant to prevent corrosion contamination
Lockable cabinet to secure pump and nozzle
Meets Australian Standards AS1940:2017 with approved bund

Click here for more details.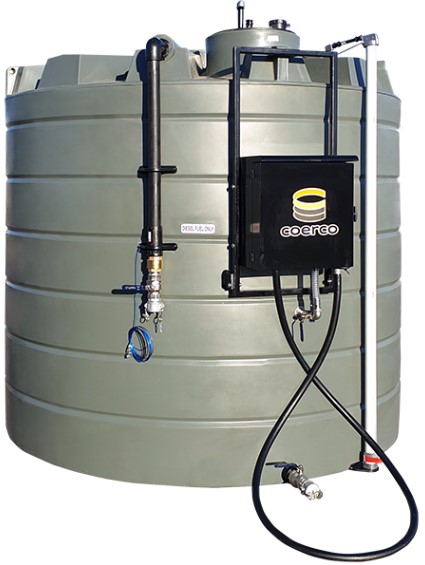 Coerco Diesel Storage Tank: These tanks must be installed
within a non-combustible secondary containment bund compliant
with AS1940 and must not be used on construction sites.

Why the need for a bund?
Diesel leakage is a serious environmental issue, which makes containing fuel spillage or leakage necessary. One way to prevent spills/leaks from wreaking havoc to the environment is to use a bund—a structure built around the diesel storage tank to contain the liquid and prevent its escape; thus, avoiding the loss of product and fuel contamination on the environment.

Bunding is not a requirement for minor storages on farms but is highly recommended. You may be required to use a bund if (1) your fuel quantity exceeds minor storage limits or (2) if environmental risk is high. Maximum capacity for minor storage of combustible liquids (e.g. diesel) is 10,000 L on open land.
What to look for in bund design for on-ground diesel storage


A bund should be structurally stable including in the event of a fire.
The bund material should be impervious to diesel, effectively contain it and allow for fuel recovery. HDPE, concrete, and geosynthetic clay liners are suitable materials.
For earthen bunds, compaction is key to minimise seepage. Also, any earthen wall 1 m above in height should have a flat top of at least 600 mm wide.
A means for safe and rapid entry and exit must be provided for bunds higher than 1.5 m.
If at least two tanks operate as a single unit, the sum capacity is used to determine bund capacity.
A containment bund now needs to be at least 110% the size of the tank, up from 100%.
Pipes that pass through the bund shall be adequately designed to avoid excessive stresses. Such stresses are the result of settlement or expansion from fire exposure.
To prevent spillage or leakage, the joint between the bund and the pipe must be sealed.
The bund (or compound) should be designed to withstand the hydrostatic head when full.


NOTE: It's important to discuss with your bulk fuel supplier your intended bund construction for approval before ordering your first bulk load of diesel to be delivered. Alternatively, Coerco also produces containment bunds to go with your Coerco diesel storage tanks.


Advantages of Poly Diesel Storage Tanks
When it comes to diesel bulk storage tanks, the following benefits give polyethylene fuel tanks the edge:


More lightweight than steel, making setup and transportation less demanding (and less expensive!) so you can respond fast to low diesel prices.
Polyethylene is an insulator, which slows the exchange of heat from the outside atmosphere to the diesel.
Flexible yet robust. Its shape may distort under certain pressure, but this is not necessarily a bad thing. These "distortions" can be pushed back into shape with little to no harm to the integrity of the tank.
100% rust-free, unlike steel diesel storage tanks which naturally corrode over time, especially with poor maintenance.
Seamless construction reduces the chances of leaks and maintains diesel fuel integrity.
Coerco poly diesel storage tanks are thicker, which contributes to their longevity.

Coerco poly diesel tanks are available in 5,000-litre and 10,000-litre capacity. Bespoke service is also offered to suit your requirements.

To find out more about our diesel storage tank range, contact us today.


Related article:
10 Frequently Asked Questions on Diesel Storage and Cartage Tanks


Editor's Note: This post was originally published on August 21, 2018 and has been revamped and updated for the purpose of accuracy and comprehensiveness.