The long-anticipated Wagin Agricultural Show at Wagin Woolorama last March 8 and 9, "Celebrating Youth, Vitality & Innovation", didn't disappoint. Providing a place for everyone in the Agricultural industry to mingle, families, participants, exhibitors, and innovators had a 2-day, fun-filled event jampacked with activities from art – inspired by the Agricultural landscape, of course! – to rodeo performances. There was something for everyone at any age!
It was our first year participating at Wagin Woolorama, and boy, did we have fun!
On the Coerco stand was a range of water tanks, livestock troughs, fire-fighting units, diesel storage and diesel cartage tanks.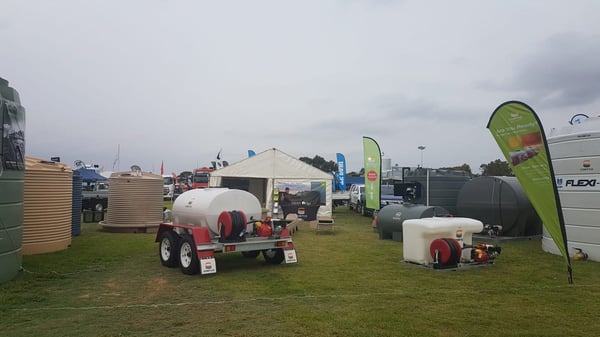 Truly, the opportunity to engage in a platform where customers and manufacturers interact with each other and trade stories and ideas is perfect for the betterment of the industry. Which was why we couldn't wait to jump on board!
At the event, we've heard some great stories and feedback from our own customers, which we appreciate.
What we've gathered from the event:
Some places around Western Australia still have scant rain available. Areas between Albany and Hopetoun in the south-east part of WA and further inland, for instance, still experience below than average rainfall. With inadequate rain, problems crop up like mushrooms and existing ones worsen.
For areas with scheme water, the downside is that water pressure at certain times during the day is very low. This doesn't spell good news for livestock who are not immune to dehydration and who needs water to stay healthy.
We're glad to hear that Coerco's Cup & Saucer has provided relief to this problem, allowing water to be replenished in the tank over time, clean and safe from evaporation, and providing livestock with water to drink when they need it most. The plus? Livestock productivity and optimal health is linked to drinking high quality water, which is achieved when water is stored in quality products.
Coerco's diesel storage and transport products – particularly the free-standing diesel tanks – have been getting a lot of attention from farmers who are looking to improve their farm machine service support units.
This makes sense. To invest in improvements on your farm that will last long-term and will save you money in the coming years is a bold and reasonable move. Coerco's diesel storage and transport tanks help you bulk up on diesel fuel while making it possible for you to take advantage of cheaper fuel prices.
We're here on standby to provide you with fitting solutions whenever you have old or rusty, undersized and leaky diesel storage and diesel cartage tanks to say goodbye to.
It must be frustrating to look at your livestock troughs only to find out algae's growing in them. Good thing there's a way around it. Knowing algae is harmful to livestock, one amazing farmer has told us about how he prevents algae from growing in his troughs. It's called a trough block algaecide. You might want to check it out!
To us, the Wagin Woolorama event was a celebration of what the Agricultural industry in WA continues to provide in the face of challenges. We're glad to see farmers having a successful year and visitors gaining insights into the farming industry is a plus.
As always, whenever you need help for improvements on your farm, we're just a call away!
We hope you join us next year!