Liquid cartage tanks are some of the most indispensable items in Australian farming. Transporting water or liquid fertiliser is comparable to carrying and protecting your hard-earned money, making choosing the right product absolutely crucial..


In this blog post, we'll show you how to zero in on the right transport tank for your situation. Then we're going to present you a list of features for your cartage tank setup to boost productivity.
We'll also point you to a case study of an actual liquid transport tank setup that was designed for high productivity!

Here are the points to consider to ensure you pick the right unit:

1. Establish what type of liquid you need to transport

Different types of liquid require different types of tanks. Liquid fertilisers are generally denser than water, so transport tanks that are meant to cart them have a different construction to account for their added weight. When carting liquid fertiliser, make sure to ask your manufacturer for a tank with a heavier SG rating.

Related topic:
All About Liquid Fertiliser Tanks and Liquid Fertiliser Weight

2. Calculate how much liquid you need for the job to help you choose the right cartage tank size
Liquid cartage capacity should be enough to last an entire day of spraying, although sometimes that's not achievable. Just the same, aim to reduce the number of trips you need to make to your fill point to boost productivity. This entails getting the right size of liquid fertiliser transport tank and water cartage tank.

If you're transporting liquid to fill a sprayer, take the number of litres your sprayer holds and multiply that by the number of times you will need to refill the sprayer to cover your farm's acreage.

Also, consider how much time it takes to refill your cartage tanks and take them to their destination. You'll need to balance filling/traveling time to the size of your sprayer. All things considered, with a large size sprayer you're likely better off with a larger-sized transport tank that'll help minimise turnaround times. On the other hand, a transport tank that's too small for a large sprayer that needs to cover a larger expanse of land will likely increase turnaround times and decrease productivity.



3. Understand the differences between different tank materials


Cartage tanks are either made of poly, fibreglass, or steel. Each one has its unique advantages and disadvantages. Understanding the strengths and weaknesses of each one will help you decide which one would best work for you.

Needless to say, the liquid that you transport must be well protected. Liquid fertiliser is too expensive and has the potential to damage the environment when spilled while water is far too precious to be wasted. When you have a durable tank, you won't have to worry about accidental spills or leaks that result in repairs and delays.

Cartage tanks that aren't one-piece (like steel cartage tanks) have vulnerable joints and are likely to burst at the seams upon impact. In contrast, seamless poly cartage tanks absorb the force of impact and then bounce back into shape.

We're sure that steel cartage tanks have their advantages in certain conditions/environments. Just bear in mind that your liquid transport tank of choice (whether steel, poly, or fibreglass) is one of the factors that will determine how smooth your operations will go or whether you will experience debilitating downtimes.


See related topic below:
Cartage Tanks: Poly vs. Fibreglass vs. Steel, Which Should You Choose?



4. Decide on a liquid cartage tank model
Coerco manufactures two ranges of polyethylene cartage tanks: the sump-based cartage tank and the free-standing cartage tank.

Find out when it's better to choose one over the other.

Sump Based Liquid Transport Tanks


If you're transporting mainly fertiliser/chemicals where it's crucial to evacuate all liquid contents for decontamination (perhaps, when switching from one liquid fertiliser to another), then your best option would be the sump-based cartage tank. A sump would make an easier job of the draining and cleaning necessary when transitioning from one liquid to another.

This type of tank sits on a galvanised steel frame to allow space for the sump. The whole tank (with its frame) is mounted onto trailers at the base of the frame.



This 400-litre Sump Based liquid transport tank on a steel skid has smooth inside walls and a sump drain installed. The sump allows for quick and complete evacuation of liquid contents.


Free Standing Liquid Transport Tanks

The sumpless, free standing cartage tank is sufficient when carting water or any other type of liquid where the complete evacuation of contents isn't necessary. Due to the lack of a sump, these tanks can be used without a skid and are loaded onto trailers directly at their base.


5. Consider tank adaptability


If you need the flexibility of moving your transport tank on and off the trailer as needed, then you must ensure that your tank of choice is capable of just that.

Remember, all sump-based tanks will either need a steel skid or a purpose-built flatbed with a cut-out section (since the sump protrudes below the base of the tank as a drainage point). You may also consider having a free standing cartage tank supplied with a steel skid for smoother installation and removal using a forklift.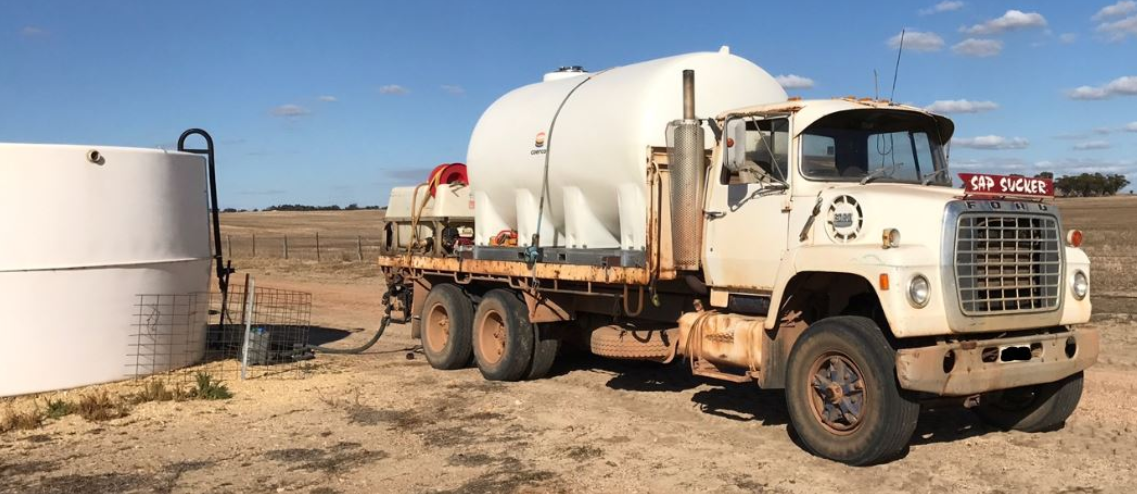 Coerco liquid fertiliser transport tank on a trailer. To promote flexibility, all Coerco cartage tanks, whether free standing or sump based, have the option of coming with a standard steel skid for improved maneuverability.



6. Consider the available space on your vehicle
It's a good idea to measure the space on your vehicle just to make sure that the tank you require will fit in without incident. Note that if you plan to haul more items on your trailer or place your sprayer on the same vehicle, then you may only have enough space for one transport tank.

Coerco poly cartage tanks come in a variety of sizes suitable for trailers, trucks, and utes. Our sump based liquid transport tanks range from 400-litres to 12,500-litres, while our free standing liquid transport tanks range from 400-litres to 17,000 litres.



7. Determine any weight restrictions

To avoid overloading and accidents, find out if there are any legal restrictions on weight in your region and ensure you comply with all weight restrictions specified by your vehicle manufacturer.



Once you have decided on the right cartage tank, consider these features to boost productivity:


Drop deck semi or flat deck

Either a drop deck semi or a flat deck trailer can be configured to allow for maximum usage both in and out of the seeding season. One advantage that the drop deck has is its lower height, which makes access to pumps and connections easier. But either way, the flexibility that each trailer offers is best paired with lightweight poly liquid cartage tanks.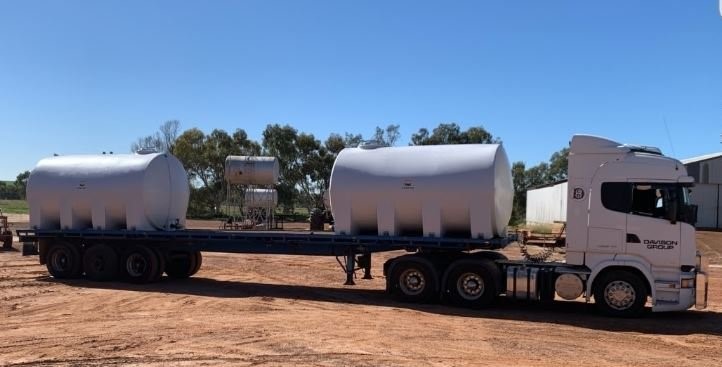 Liquid transport setup on a flat deck trailer


During seeding season, poly transport tanks are easily mounted onto the trailer with a loader or with the use of removable jacks and then just as easily removed off the trailer out of the seeding period. Previously, Coerco has supplied a drop deck liquid transport system with removable jacks as part of the skid for a project. More on this in the related topic below.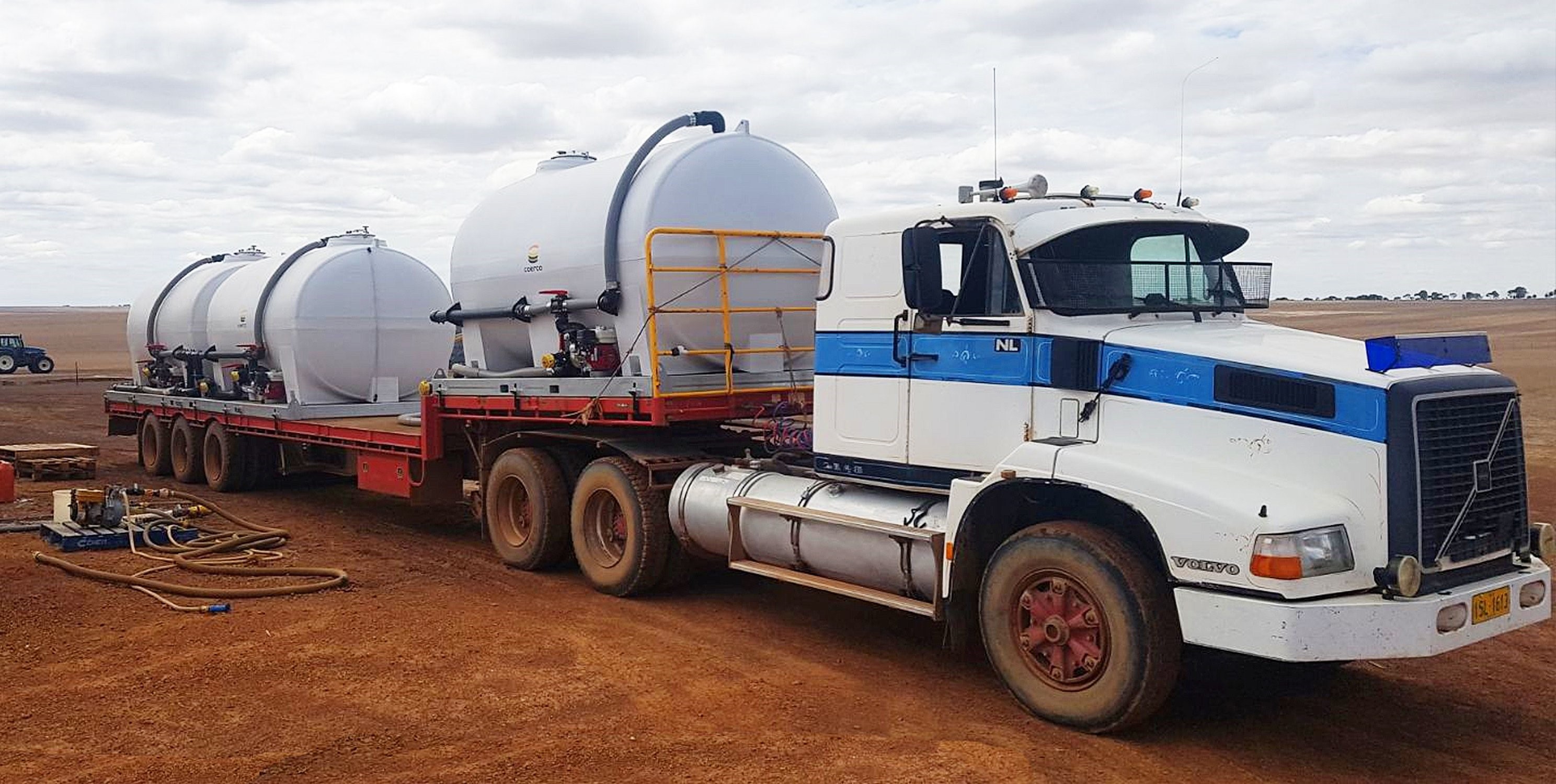 Liquid transport setup on a drop deck semi trailer - set up by Coerco.


What semi-trailer to use for bulk transport:

For bigger farms that transport huge loads of liquid, a semi-tipper trailer can be converted into a dual purpose, low profile steel chassis that can accommodate poly liquid cartage tanks on a skid frame during growing season. During harvest season, the end tippers can be fitted back onto the chassis for grain transport. This dual-purpose functionality is cost-effective in that it eliminates the need for a new tanker.



Heavy-duty HDPE piping

High-density polyethylene (HDPE) is a suitable material for heavy-duty and rust-resistant piping that's perfect for liquid fertiliser. You can't let rust ruin your liquid, pipes, tanks, and consequently, your operation.



Pump

The pump plays an important role in spraying operations. It must work well with your engine and correctly installed for it to achieve its maximum rated capacity.

Pick a durable, chemical-resistant, two or three-inch stainless-steel pump and make sure it's powered by a reliable engine with an electric as well as a manual start option.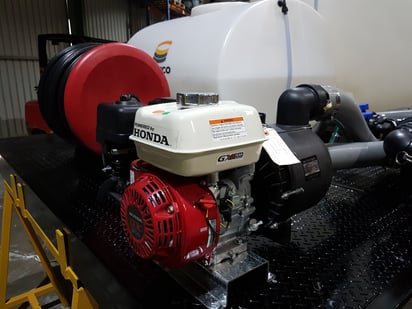 Pump powered by Honda engine



Mounting pins


A pin mount system is the easiest, fastest, and safest way of securing your cartage tanks onto the trailer. The old way of using hoops and bands to secure cartage tanks can't compare to this newer, more innovative way of securing full loads of liquid transport.
Deck space


Time is gold in any business, and farming is no exception. Incorporating ways to save time and decrease effort with the goal of increasing productivity can't be stressed enough, even if it's as simple as having sufficient deck space for important items. Your deck space should have adequate room for any item you need to carry so you can minimise going back and forth.


---
One way to clear up more space is to have all your piping installed
underneath the deck.

---
Chemical mixing tank


One of the most important components in your setup, the chemical mixing tank allows you to blend your chemicals with water according to requirements. The mixing tank must be suitably sized to be able to hold and mix enough liquids to match the size of your sprayer.
Step ladder


This piece of equipment may be simple, but it makes accessing your deck easy and safe, facilitating the ease of your workflow.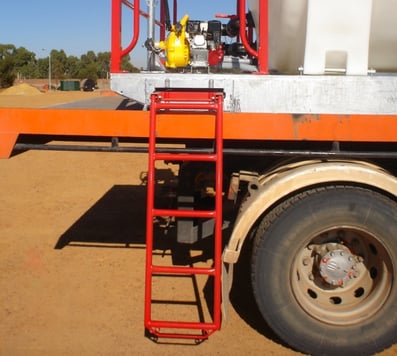 Ladder for liquid transport system

Nowhere is this need for time management more evident in the country than in Australian farming, particularly in crop spraying and crop seeding operations when multiple liquid resources (water, liquid fertiliser, and diesel) play an important role.

Ideal crop spraying conditions could disappear as quickly as they appear. So, consider your liquid transport setup from the perspective of working smart, not just working hard. When you fail to plan around productivity, you risk putting your field operations in jeopardy.


See this case study below:
Case Study - Complete Custom Liquid Transport Tanks for High Productivity



Editor's Note: This post was originally published on January 21, 2020 and has been revamped and updated for the purpose of accuracy and comprehensiveness.