Are you struggling to find the best livestock water trough solution for your intensive rotational cell grazing systems? Whether you are using portable electric fencing to graze areas outside your perimeter fencing or you're sketching endless paddock and laneway diagrams to compensate for limited piped water access, Coerco offers products to increase your efficiency and remove the most vexing challenges to optimal grazing strategies.


Poly Water Trough

Coerco's wide selection of water troughs are designed to be durable, easily cleaned and safe for your livestock. Cattle farmers prefer our round poly tub troughs, ranging in capacity from 250 to 2000 litres, while those running sheep love the All Poly Stock Troughs, Steel Frame Longline troughs and on the smaller scale the M-Series water troughs.

Related article:
5 Things About Sheep Troughs You May Not Know

M Series Troughs

The low-profile, rectangular M-Series units are ideal for smaller stock. Available in four sizes (230 L, 170 L, 110 L, and 70 L), the M-Series troughs are safely accessible to lambs and calves and are popular with pastured poultry and waterfowl farmers.

All Poly Stock Troughs
One of the most hassle-free troughs around are the All Poly Stock Troughs which have eyelet points to allow troughs to be staked to the ground, and the specially designed trough bottoms make this type of water trough easier to clean, and more efficient in making every last drop available to your animals.

Float valve size and pressure options are available for all of our troughs, allowing them to be connected to piped water supplies or to free-standing storage tanks.


---
For the safety of your stock and to preserve the life of your equipment, float valve fittings are protected within special compartments in our troughs.

---

Whether you're storing a few litres or a few thousand, our seamless, one-piece moulded poly tanks are made from rugged, UV-resistant, Qenos ALkatuff LLDPE. Having these tanks ensure your livestock always have water reserved for them.




Tank and Saucer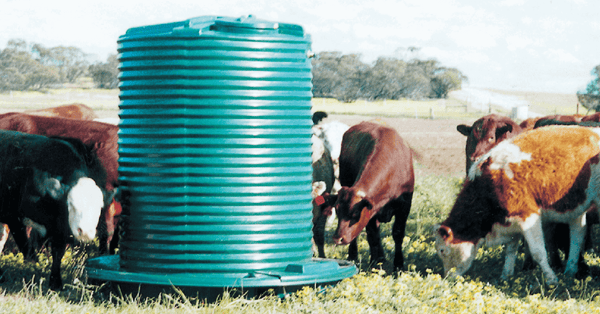 Our combined tank and saucer model gives you the best of both worlds of a trough with an integrated tank for water supply - ensuring large watering reserves at all times reducing stress and effort!

Available in 4 convenient sizes the poly cup and saucer tank range offer peace of mind when it comes to watering large mobs of stock at the same time. Durable and very versatile, these units can also be relocated easily to areas of need in your grazing program.

Read more about the advantages of poly water troughs for your rotational grazing here: Temporary vs Permanent Water Trough.
---
A must for any avid stockist and proven throughout many years of use in the harsh conditions of Australia, our products are known to remain in service for decades. Our tanks include high-quality tank fittings for your gravity flow or pressurized system.

---
Truck Ute Mounted Tanks



Whether you're directly filling your livestock water trough or replenishing site-located water tanks, Coerco offers heavy-duty, food-grade, free-standing cartage tanks for delivering water wherever it is needed. The large range of sizes (200 - 15,000 Litres) to satisfy most requirements are just the beginning when looking at the features of our liquid transport tanks.

Coerco Freestanding Liquid Transport Tanks all come with a sight tube for easy viewing of content volume. For ease of transport and handling, you'll find the lifting lugs are moulded into the tank.

Our 400 -1000 Ltr tanks can also be fitted on galvanised skid with a pump and reel, specifically designed for flatbed use for water transfer and double as a valuable fire fighting resource. All our water transport tanks include vented lids and basket filters allowing for ease of filling.
Too Many Options? Let Us Help!

Our product line offers many solutions to manage intensive rotational cell grazing
strategies, and our staff can help guide you in selecting components best suited to your needs. Don't hesitate to ask us for advice.

Our satisfied customers have shared their success stories with us and there are always new and innovative ways of incorporating our extensive product line into your grazing infrastructure.