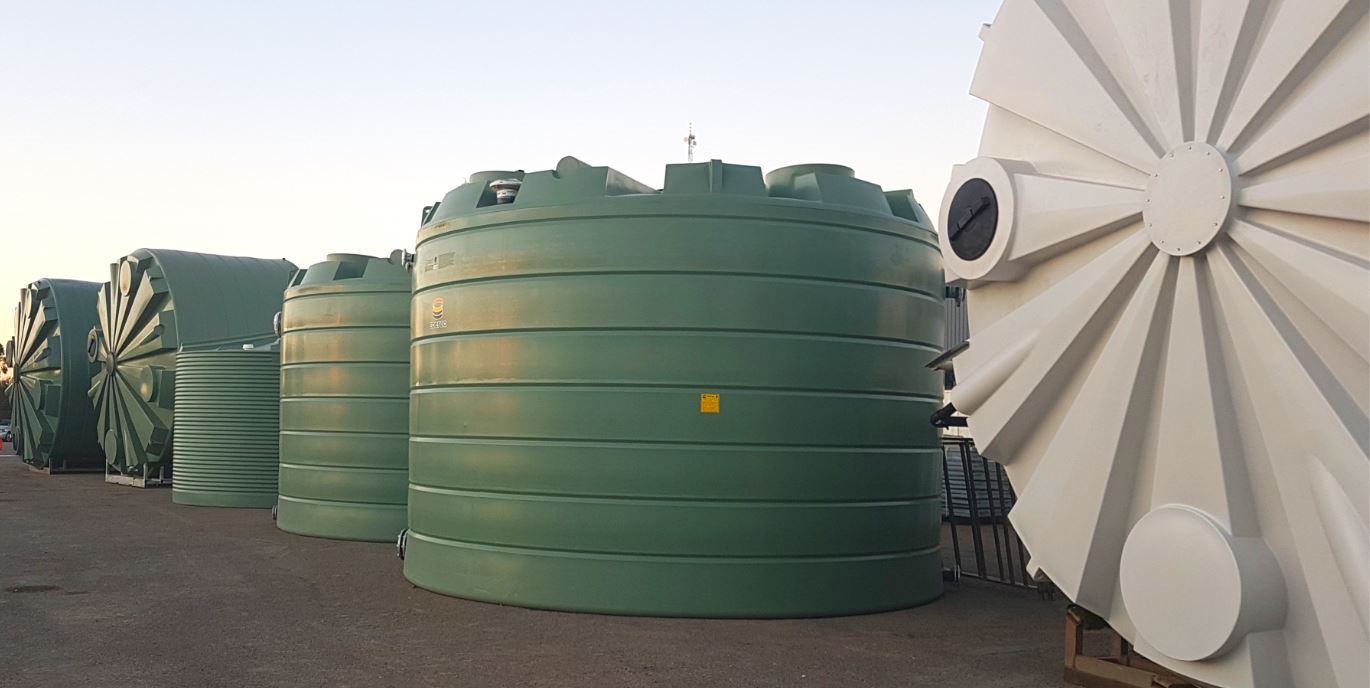 Coerco designs and manufactures a range of high quality Rainwater Tanks for the Perth and WA market. Coerco rainwater tanks are developed with strict quality control in place. This ensures they are suitable for drinking quality and fully UV stabilised to withstand the weather conditions in Perth and WA.

Within our range of rain water tanks you can choose our Premium Rainwater Tank Range with its one-piece construction and attractive Heritage design. For strength and a more traditional look, they are also corrugated. With a self-supporting lid design there's no need for any internal support either. Available in sizes ranging from 250 litres to 64,000 litres.


Our Flat Walled Tanks or flat walled rain water tanks are sturdy, reliable and like the rest of the range, designed to last. Our flat walled tanks are supplied with a screw in lid, overflow outlet and ball valve, and come in sizes from 5,300 litres, to 50,000 litres.
We also feature Slimline Tanks. Call us today on 1800 860 851 to discuss how we can help choose the right rainwater tank for your needs.


---

Why Water Tanks are Useful in Western Australia

1. Scheme or potable water may not be available in your area or pressure may slow down during certain times of the year.
2. Oftentimes, seasonal changes or sudden fluctuations in weather necessitate clean water storage that is safe for human and animal consumption while being harmless to plants.
3. Western Australia is prone to bushfires caused by multiple factors. Having available water for your fire fighting unit to fight fire is akin to having a first aid kit when you live away from the nearest medical facility.
4. By having water tanks, you lessen your dependence on scheme water and save on water bills.
5. You can reduce stormwater runoff on your property and mitigate the possible damages it could cause.


---

How to Pick the Right Rainwater Tank





Choose a water tank size

Calculate your average household water requirements

Choose a water tank colour


How to Choose the Right-Sized Rain Water Tank


Calculate catchment area

Measure your roof. Measurement should be in square metres.



Find amount of average rainfall


Find up to date statistics on amount of average rainfall in your area by visiting www.bom.gov.au.

Or you can use our free calculator:
RAINWATER TANK CALCULATOR

Determine possible harvest in a year

Formula: roof area x average rainfall

Scenario:
Catchment area = 200 m2
Average rainfall = 500 mm a year
Potential rain harvest: 100,000 litres of rainwater

Now that you have a good estimate of how much rainwater your roof can catch, it's time to determine how much water your household really needs.


How to Calculate Your Average Household Water Requirements


Assign 250 litres of water per person per day (this will cover such personal activities as brushing teeth, bathing, etc.)



Assign 120 litres per person per day (this will cover washing machine usage) plus 35 litres per person per day (covers dish washing).



Then, multiply the total by 365. The product is the estimate of your property's water consumption for 1 whole year.



How to Choose a Water Tank Colour


Consider where you want to place the tank so you can complement the colour to its environment.



Note that the colour of your tank can also influence the temperature of the water inside.


Darker colours generally absorb more heat than lighter colours. Thus, a dark-coloured water tank would give you warmer water whereas a lighter coloured one would result in cooler water.

Yet again, many factors could come to play. A light-coloured water tank in an open field could, due to exposure, contain warmer water compared to a dark-coloured water tank sitting in the shade.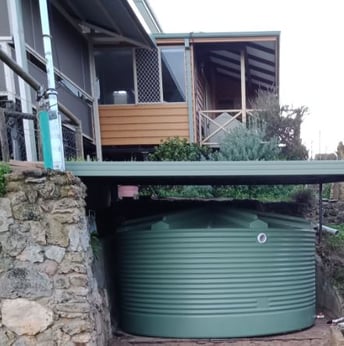 Another factor would be the thickness of the tank and the material used. Coerco water tanks are thick and made of quality rotational-moulding resins that provide resistance to weather. And with Colorbond Colours to choose from, you can be sure to have water tanks that look good being strong.
COLORBOND® Colours
Black (Night Sky ™)
Colorbond® Colours allows you to blend your water tank seamlessly to its surroundings, all while complementing your property's needs without sacrificing your taste.

The Fastest Way To Determine The Ideal Water Tank For Your Property
---
Choosing a Reasonable Tank Price: What to Look For


Company Philosophy on Pricing
At Coerco, we want to produce products that are resilient and a match to the volatile conditions of the market and the environment.

That's why we made sure to maintain internal quality control of our products from start to finish. This way we're able to remain on top of our field, achieve the perfect balance between the different aspects in production and the market so that we're able to produce rainwater tanks that are high quality yet remain competitively priced, giving you the long-term value that you desire.


Find Proof of a Tier 1 Manufacturer
There are certain signposts you can watch out for when trying to ascertain the trust factor of a manufacturing company. What is the warranty? How about the manufacturer's reputation around customer service? Can you find what consumers think about the company online? What are they saying specifically?


---

Reasons to Choose Coerco Rainwater Tanks


State-of-the-art manufacturing process with roto-moulding

Manufacturing history spanning years – even decades.

Time invested in research for the development of high-quality products

Internal quality control

Proven high-quality Alkatuff roto-moulding resins for exceptional resistance to Australian weather

Rock-solid warranty

Proven after-sales support

Highest-rated water tank manufacturer according to online reviews (Google and Facebook)


All the above reveals a deeply committed company dedicated to their brand and their customers for the long haul. A company invested in growth, improvement and development for your benefit.



What standard fittings/accessories are available with Coerco rain water tanks?
Moulded poly screw lid (with leaf strainer fitted as optional)

Threaded brass outlet

Lever ball valve

Overflow elbows

Screens


Note that depending on your particular circumstance, you may or may not require additional plumbing.


What other add-on accessories do I possibly need for my rainwater tank?


Inlet and outlet pipes

Gutter and downpipe installation

Pressure pump

Water filtration

First flush diverter


---

Water Tank Capacities, Sizes and Dimensions

Corrugated


Litres

Diameter
(mm)

Wall Height (mm)

Total Height
(mm)

RT1000

1,000

1000

1350

1550

RT2500

2,500

1400

1785

2050

RT2500S

2,500

1850

950

1250

RT3500

3,500

1600

1800

2150

RT4500

4,500

1850

1825

2100

RT4500S

4,500

2420

1050

1350

RT9000

9,000

2420

2100

2430

RT9000S

9,000

2950

1375

1825

RT9500

9,500

2600

1800

2150

Find Bigger Premium Corrugated Water Tanks


Flat Walled


Litres

Diameter
(mm)

Wall Height (mm)

Total Height
(mm)

JRR5300

5,300

1800

2025

2275

JRR10500

10,500

2450

2100

2450

Find Bigger Flat Walled Tanks



Slimline


Litres

Length
(mm)

Width
(mm)

Total Height
(mm)

RTS800

800

1250

625

1500

RTS1500

1,500

1325

875

2000

RTS3000

3,000

2615

805

2120

Get More Info on Slimline Water Tanks


---
See a complete list of Coerco water tanks from all ranges here:
High-Quality Water Tanks to Withstand the Toughest Conditions

Or have a go at our Water Tank Selector Tool:
The Fastest Way to Determine the Ideal Water Tank for Your Property

To get more info on our Delivery Policy, click here.
---

Water Tank Prices

Coerco poly water tank prices start at around $512.60 for smaller sized water tanks (1,000-litre), around $995.50 for 4,500 litre-water tanks, and around $1,826.00 for bigger water tanks (9,500-litre).

The biggest water tank in our arsenal is 64,000 litres.

For a more accurate pricing and so that we can best assist you with ensuring you get the solution well-suited to your needs, call us on 1800 860 851.


Where to Find Rainwater Tanks in Perth or Anywhere in WA


Coerco has hundreds of distributors scattered all around Western Australia selling Coerco's water tanks and other associated products at competitive and sensible prices.

The easiest way to find a Coerco distributor nearest you is one click away.

Simply enter your post code and view a Google map or street view of the location through this link below:

Where to buy Coerco products?