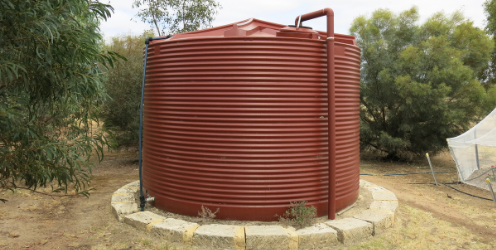 Plumbing for Rainwater Harvesting System
Are you wondering what the best way is to get rainwater from the roof of your structures to your water tanks? Then this article will describe one of two plumbing configurations you can use for rainwater harvesting.
The different plumbing configurations for rainwater harvesting are as follows:
Wet rainwater harvesting system and

Dry rainwater harvesting system

This post will cover what you need to know about wet systems.

What is a Wet System?


The main thing to remember about this system is that it relies on underground piping to channel water into your water tank.

The rainwater from your roof, received by your gutters, is forced through air-tight downpipe(s) leading down the side of your house/building. These pipes then go underground and exit from the ground at a spot near your water tank, finally transporting rainwater into the water tank inlet.


Why Is It Called A "Wet" Rain Harvesting System?
It's called a wet system because the pipes, being underground, cannot naturally drain themselves of rainwater by force of gravity (unlike dry rainwater harvesting systems) and so remain 'wet' or filled with some amounts of water even during non-rainfall seasons.
How Does A Wet System Actually Work?

A wet system relies on the influx of water from your roof down to your downpipes. This inflow of water creates the pressure necessary for rain to travel through your pipes underground. The water then exists the ground via a riser pipe until it finds its way into the tank for storage.

Water is left inside the pipes when water pressure drops (when it's not raining).

How to Achieve Adequate Pressure Inside Your Pipes in a Wet System

More pressure is created with height.

In order to achieve the adequate pressure needed to fill your tank, the pipe coming off from your roof area must be higher than your tank's roof by at least 1 to 2 feet difference (0.31 m to 0.61 m).


---
This height difference helps facilitate the pressure necessary to get water into your tanks.

---

General rules:


T

he larger the catchment area, the more height is needed
The smaller the catchment area, the less height required


When to Use A Wet System


When you don't want to see unsightly pipes

Your tanks are situated too far away from your main catchment area

You're trying to catch rainwater from multiple downpipes or multiple catchment areas

When pipes cannot be configured to run directly into your storage tanks



Example:



There is an obstruction between the route going from your catchment area to your water tank.




Wet System Advantages

A wet system may seem complex, but it does come with a slew of benefits.


1. Aesthetics
2. Greater adaptability
3. Connecting multiple structures is easy


Aesthetics
One of the most significant benefits to a wet rainwater harvesting system is aesthetics. The piping is run underground, so there are no unsightly above-ground pipes.

Greater adaptability

Underground piping allows you to place your water tanks anywhere on your property.

Makes connections between different structures easy
Wet rainwater harvesting systems make connections of various building and roof structures easy because the connections can be built underground instead of a complicated and unsightly array of piping above ground.


Wet System Disadvantages


1. Water stagnation
2. More expensive than dry systems
Water stagnation
The most significant disadvantage of wet rainwater harvesting system is water stagnation. Stagnant water left inside underground pipes during low rainfall can attract mosquitoes, bacteria and other contaminants.


---
PRO TIP:
Have an in-ground first flush water diverter installed to prevent the above problem. This way, water that would otherwise be stagnant in your pipes will be emptied out through the diverter.
---
More expensive
With a wet system,you need to invest more time, energy and money on setting up the whole configuration. Requirements include 3 - 4 inch pipes that run underground, digging the ditch, installing the diverter, etc.


Did you know?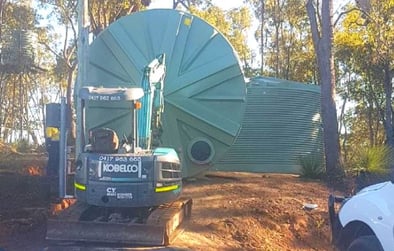 You can link water tanks together and fill them up using the wet system configuration. It makes for a cleaner-looking setup with minimal pipes showing!


---
Note that linking water tanks using this configuration can be a quicker and more straightforward procedure with poly water tanks, which are easier to site and install.

---

Now that you're familiar with the wet system configuration, its benefits, drawbacks, and application, it's time to acquaint yourself with its opposite.

See information on dry rainwater harvesting systems in this blog post below:
Everything You Need to Know About Dry Rainwater Harvesting Systems

Editor's Note: This post was originally published on September 6, 2018 and has been revamped and updated for the purpose of accuracy and comprehensiveness.