Welcome to our Frequently Asked Questions on Coerco Compact Fire Fighting Units. Here you will find answers related to features like the fire fighting tanks and pumps, options for customisations, and more.

1. Do compact firefighter units fully drain?
Yes. Our compact fire fighting units have a sump and drain bung in them for complete drainage.


2. What brand of pump is on your compact firefighting unit?
Aussie Pumps. The standard pump on our compact firefighters is the Aussie Fire Chief coupled to a Honda GX160 engine.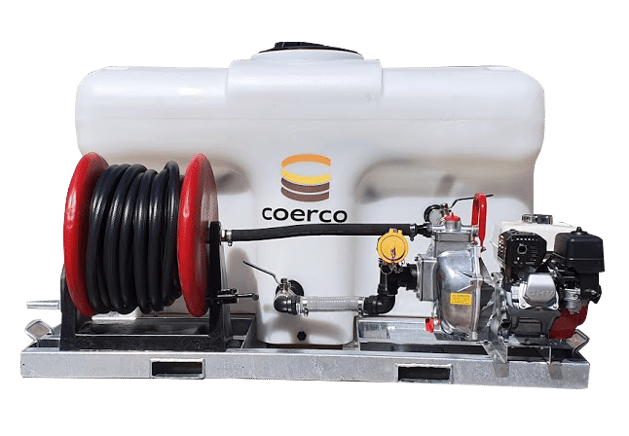 600-litre Compact Fire Fighting unit with Aussie Fire Chief Pump coupled to a Honda GX160 engine
3. Do these units come with a twin or single impeller pumps?
They come with an Aussie Fire Chief pump on them which has a big single piece 7.5 inch heavy duty closed impeller.
4. Do they have forklift access?
Yes, all compact firefighting units in our range have forklift access.
5. How many metres of hose do I get on your compact firefighting unit?
They come standard with a 30m of 25mm (1 inch) hose.
6. Do the pumps come standard with Viton seals?
No, they are not standard with Viton seals. However, we can certainly fit Viton seals for an additional fee if you will be pumping any chemicals through the unit.
7. Do they have a sight gauge?
No. Our compact firefighter units do not have a sight gauge as the tanks are manufactured from a translucent material which means that you can see the water level from the outside of the tank.
8. Do you sell fire fighting units that are available with a diesel engine?
Yes, we can certainly put a diesel-powered pump on the unit for an additional fee.
9. What is the flow rate of the unit?
This obviously depends on the size hose that you have on the unit, but a standard compact fire unit with 25 mm (1 inch) hose, when the engine is at full revs will pump approximately 110L per minute (e.g. a 1000L unit compact firefighter will empty in 9 minutes if pumping continuously).


Explore the known benefits of a compact fire fighting unit:
Why Choose Coerco Compact Firefighting Equipment?


Other related topic:
Newest release on Firefighting Equipment: Improved features. Better performance!


Editor's Note: This post was originally published on 12 December 2018 and has been revamped and updated for the purpose of accuracy and comprehensiveness.